Questioning Online Curating
online five-day workshop
Presenting projects online becomes a necessary option for artists and creative practitioners during the pandemic. But it is perhaps time to ask, how do we work collectively in art production in tandem with digital technologies? Does online curating help in the remote co-working processes?
The workshop invites ten participants from different backgrounds to formulate a collective during the five days. As a small group, we will work together closely to question the value and code of conduct of online curating.
The workshop will consider the ethical and political implications of online curating in line with some contested narratives, such as:
+ Inclusivity and accessibility advanced by art institutions;
+ Problem-solving in science, technology, engineering and mathematics (STEM) industries;
+ Market-oriented strategy making in design thinking.
We will also unpack together the praxis of online curating by discussing its often-neglected constituents such as remote communication, software-based co-production, crowdsourcing, and some infrastructural specificities, including broadband and browsers and social media.
During this workshop, participants will each develop a speculative plan for presenting an art project online. Participants will be invited to present the plan in internal roundtable crits, and an online event opened to the RCA community. The workshop will be of interest to those who hope to develop critical approaches to navigating, participating or organising online art projects. It also welcomes those who hope to share their experience of preparing for the WIP show and other online art projects.
22nd - 26th February 2021

AcrossRCA workshop

** here is a brief of the speculative project plans produced by the group members during the workshop which includes:


+ Woven Island
+ A Digital Utopia for the Institution
+ Curating Sound: Export Radio
Presenters:
Harriet Zhang
,
WooJin Joo
,
Yuchen Li
,
Fergus Wiltshire
,
Shontelle Xintong Cai
and
Carmo Pinheirodemelo
_the speculative project presentation is opened to the RCA community. RCA students and staffs can find the event link on Panopto by searching "Across RCA Event: Questioning Online Curating Workshop Presentation"
a mapping of some projects mentioned in the workshop

here
is a list of suggested materials, which include:
+ Texts on technology & social justice
+ Texts on online curating
+ Texts on 'new' media art, art & tech, and the capital-intensive art and curating
+ Some online art projects for looking together during the workshop



no-longer-being-able-to-be-able
online art project


no-longer-being-able-to-be-able began from an urge to think about a shared unease in an over-saturated contemporary life. The limitless productivity and growth encouraged by neoliberal ideology have redefined people as labourers who have to continue to able to work and consume in order to be able to be.

The title of the project refers to Byung-Chul Han's The Burnout Society (2010), which interrogates contemporary life's immanent excessive positivity and information. In such a society, everybody becomes an entrepreneur fully responsible for the outcomes of their 'individual' lives. In order to be responsible in this sense, people are so busy proving they are able to work, compete, consume and survive. It becomes hard to hold on and ask why we should be able to be able, and for the sake of whom. The predominating fantasies of unlimited growth have rendered feelings of tiredness, anxiety and disorientation daunting and negative. They become symptoms of being fragile, defective and incompetent. These 'negativities' have promoted the contemporary myths of health, care, safety and protection. The pandemic, once seen as a chance to suspend and contest these myths, is instead fuel for the continuation of 'the normal' in both the art field and wider society.

In response to the neoliberal norm of being-able-to-be-able, no-longer-being-able-to-be-able explores the unease in excessive everyday life from the perspective of labourer, consumer, woman, Queer individual, ethnic minority, teenager, internet user, art worker and an exhausted 'regular person'. By unpacking the culture of abundance and expansion, this project questions the meaning of be and being able that are underpinned by particular ideologies, powerholders and histories. The works presented in the project aim to explore the possible ways of recognition, articulation and interrogation amid overloaded, oversaturated, and overdrawn beings.
October 2020 - Janurary 2021



commissioned by

Skelf



link to the project

listen to a podcast hosted by Mark Beldan about the project here
The project is curated by Hang Li with special thanks to Claire Undy for building up the website, Mark Beldan for hosting a podcast to introduce the project, and Lizzie Munn for promotion. The project won't realise without the generous support from Nan Wang and Mengyuan Gu.
The project took inspiration from Byung-Chul Han, Olia Lialina, Joana Chicau, Aldo Clementi and Trisha Brown. Thanks for their rich practices in philosophy, net.art, website design, choreography and music.
screenshots of the website. please contact me before using any of the images


Sense-Making for Sharing Sensibilities
28th of July

RCA2020
, Royal College of Art
A o
ne-day event opening up discussions on the approaches to gaining shared recognition and to channelling social actions as critical forms of collective sense-making. The event is curated by Hang Li as part of an RCA 2020 SOAH Research Programme
In the Realm of Re-Sensing
organised by Dr Josephine Berry. The programme focused on the transformation of the senses and sense making in an increasingly online world. It understanded re-sensing not only as the digitally propelled thinning or withering of the senses, but also as their potential extension, intensification, recombination, splitting and remodelling induced by today's cyborg assemblages. It asked more generally how we can connect sense-making with sensation to think about their mutual transformation in times of such abundant crisis.
Textual Bodies: Online Studio Visit with Adam Walker

Adam Walker showed in his online studio visit his current and recent performances, texts, moving-image and digital projects, as an ongoing critical exploration of the relationship between the human and abstracting, increasingly textual structures affecting contemporary life. In our conversation, Adam discussed the urgent need for speculative profferings of other ways of being in addressing and contesting self-perpetuating structures of inequality. Our human messiness, irrationality, desire and relationality were considered in both vulnerability and also the potential for resistant agency.

28th July

video recording available here.



Adam Walker

's recent projects, performances and exhibitions have taken place at and with the Serpentine Gallery, NEoN Digital Arts Festival and Tyneside Cinema (UK), Izolyatsia and Yermilov Centre (Ukraine) and online at www.skelf.org.uk. He is soon to complete his PhD at the Royal College of Art.
image credit: Adam Walker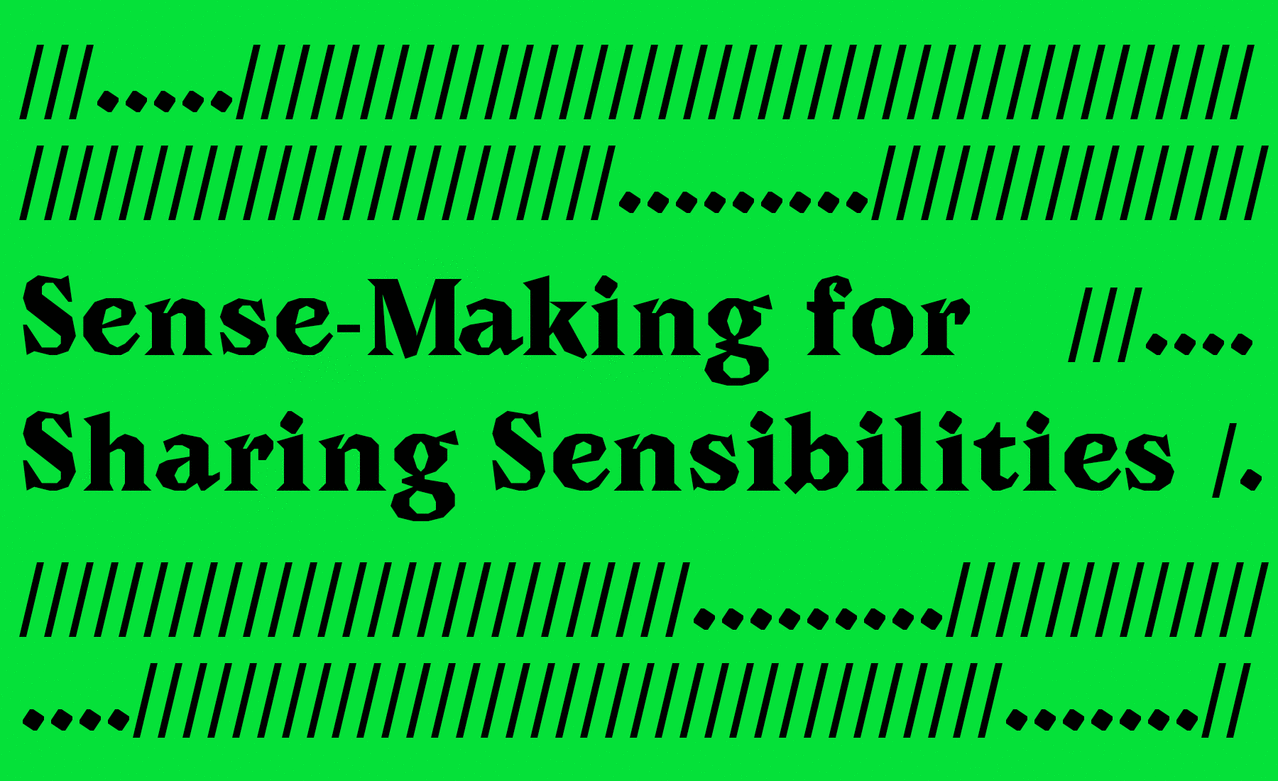 Sense-Making for Sharing Sensibilities: Art, Design and Social change


COVID-19 has hindered physical connection and blocked senses at large. Yet, there are a few organisations that have been working on making sense together during the pandemic by cultivating discussions in world-making with social justice, care and alternative economic and political infrastructures.

This panel discussion presented the organisational practices that are coming into being during the pandemic along with the on-going social, political and economic crises. It discussed the ways to configure and reconsider the role of art, design and organisation today confronting challenges and opportunities arising in and after the pandemic. The panel also covered how the internet is impacting the process of collective sense-making and social change.

New Directions? Art Practice and the Covid Pandemic
performance_streaming_discussion

Researchers across all disciplines in the RCA were invited to reflect upon the changing conditions of our working environment affected by Covid-19 pandemic. It opened up a discussion about the implication of the pandemic to our work as well as the opportunities and challenges this might bring. The event included formal presentations, screenings, performances and Q&A.

For The Time Being
online and offline projects and writing commissions


A five-day experimental programme of photo-performance I co-curated with five postgraduate students. Combining Snapchat-based performances, gallery-based installations with writing commissions, the programme sought to explore institutions' shifting responsibilities in the networked age.


Read more...
My review of
For The Time Being
titled
'If There Still is a Point to Curating on Social Media, What Is It?' is published in Video Vortex Reader III: Inside the YouTube Decade by the Institute of Network Cultures, Amsterdam. You can find more about the project, commissioned art practices and some archival materials there.
May 2019


The Photographers' Gallery

commissioned artists:
Agil Abdullayev, Feng Mengbo, Max Grau and Tamara Kametani and artist collective Agorama

presenting the writings of Katharina Niemeyer, Prayas Abhinav, Katrina Sluis, Antoine Catala, Zefi Kavvadia, Monica Okello

co-curate with Rachel Chiodo, Sitara Chowfla, Esther Moerdler, Carlos Pinto and Caroline Rosello

thanks to Katrina Sluis, Sam Mercer, Shama Kanna, Kelly Large and Victoria Walsh for offering generous help

photograph: Deepak Singh Kathait © For The Time B
eing
Restaging For the Time Being


The project restatged the documentation of a digital art programme For the Time Being (May 2019). For the Time Being was an experimental programme of photo-performance, conceived as a response to the everyday presence of social media. The project used Snapchat, an app devised to share intimate, disappearing images, as a central protagonist. In May, 2019, the project invited Agil Abdullayev, Feng Mengbo, Max Grau and Tamara Kametani and artist collective Agorama to reflect on the role of image sharing networks in their personal lives. In addition to the art programme, selected writers were invited to contribute texts that extend the themes of art production, memory and social media. The writings of Media theorist Katharina Niemeyer, curator Prayas Abhinav, digital curator and scholar Katrina Sluis, the winner of the teen-writing competition: Monica Okello and our artists can be accessed on www.forthetimebeing.co.uk.

In Video Vortex, the documentation, website and writings of For the Time Being were shown to host discussions around the approaches, value and problems of curation, documentation and re-staging in the networked culture.
September 2019

shown in Video Vortex XII at

Spazju Kreattiv

in Valletta, Malta

commissioned by the

Institute of Network Cultures



exhibiton organised by Sabrina Calleja Jackson, Justin Galea and Adnan Hadzi

curator: Toni Sant

presenting the art documentation of Agil Abdullayev, Feng Mengbo, Max Grau and Tamara Kametani and artist collective Agorama


presenting the writings of Katharina Niemeyer, Prayas Abhinav, Katrina Sluis, Antoine Catala, Zefi Kavvadia, Monica Okello





co-curate with Caroline Rosello





thanks to Lorenzo Maria Centioni for offering help with installation





photograph:

Caroline Rosello

© Restaging For Th

e Time Being

Emotional Practices

The online project presented the questions of
+ how emotions shape our work;
+ how we as artists position ourselves emotionally in our work;
+ how our emotional work transcends orthodox practices.


It is a test-case in what decolonial curatorial diversity and inclusivity can look like; the design pivots critically around ideas of otherness and otherwise. The purpose of the project was to draw on cutting edge decolonial thinking to privilege emotions as a critical lens of enquiry into subjectivity and our world views, experiences, feelings and lexicons.

Read more...
October - December 2019

OPEN research initiative

presenting works of
Lubna Gem Arielle, Annie Bellamy, Elise D'Arbaumont,
Lubna Gem, Elvira Korman & Anne Goldenberg, Linnea Kristensen & Jamie, Sofie Layton, Leren Li, Ian McArthur, Ryan McDonagh
ChenImani Robinson & Halima Haruna, Ceyda Oskay, Tatiana Pinto, Audrey Roger, Eda Sarman, Iria Suarez & Paula Turmina, Eriko Takeno, Menara Vieira

co-curate with Shehnaz Suterwalla, Sarah Cheang, Livia Rezende and Katie Irani
Desktop screenshot for 《痛感共振中》 ("The Resonating Suffering") I wrote for LEAP art magazine.

Publications

_English

Li, H., 2020. If There Still is a Point to Curating on Social Media, What Is It?, in: Lovink, G., Treske, A., Wilson, J. (Eds.),

Video Vortex Reader III: Inside the YouTube Decade

, INC Reader. Institute of Network Cultures, Amsterdam, pp. 245–357.
_Chinese


李航,
2021,痛感共振中,艺术界 LEAP (电子出版,"动不动"系列)
(Li, H., 2021. The Resonating Suffering, LEAP (digital publishing))

李航,2020,戒断,应激,文化断层?从COVID-19期间的艺术机构网络实践谈起,

美

术馆 2
文章委任于中央美术学院美术馆 (CAFAM) 的"疫情后的美术馆"研讨写作计划,转发于凤凰艺术,收录于北京大学视觉与图像研究中心 ( Center for Visual Studies CVS)的2020现代艺术文选。
(Li, H., 2020. Cultural Stratum and Disjunction: A reflection on the art institutional practices online during COVID-19, Museums 2.
The journal article was commissioned by CAFA Art Museum (Beijing). A short version of the essay was published online by CAFAM, forwarded by The Center for Visual Studies (CVS) at Peking University and Phoenix Art Network. It was archived by The Center for Visual Studies as part of the 2020 contemporary art anthology)
Writings
Li, H., 2020.
Tensions and Transformations: Mapping the intersection between contemporary art and the network society.
[first-year PhD literature review] School of Arts and Humanities, Royal College of Art.
Li, H., 2020.
no-longer-being-able-to-be-able
. [Online art project]
no-longer-being-able-to-be-able
, Skelf.
Li, H., 2019. Decoloniality is just too on point for online curation at this moment. [Online art project]
Emotional Practices
.
Li, H., 2019. Inter(face)action: Rethinking web-based curation as mediation. [Master thesis] MA Curating Contemporary Art, Royal College of Art. (Distinction)
Li, H., 2016. Folding and its continuity. [Master thesis] MArch Architectural Design, the Bartlett School of Architecture, University College London. (Distinction)
Speeches
Skelf Podcast episode eight
hosted by Mark Beldan.
'Curating on the web: From net.art to the present', Mason Gross School of the Arts, Rutgers University.




A Wrinkle in Space
_previous design practices
Wrinkle in Space uses cellular division (CD) to develop architectural fabrics at variable resolutions of "wrinkling". Original CD code is modified to fit generation of a series of tooling paths for 3D robotic extrusion. Such constraint resulted in lowering the number of dimensions to run cellular division in a planar setting, programming accelerations and decelerations of "wrinkling". This feature inspired the name of the project, A Wrinkle in Space, for the spatial sensations it produces, with poly-dimensional wrinkling of its fabric, where smaller scale wrinkles are densifying the fabric and providing larger structural resilience, while more relaxed larger scale wrinkles are forming inhabitable textured voids of space.

The project is also referencing a science fantasy novel A Wrinkle in Time by Madeleine L'Engle, since its generative core contains accelerations and decelerations of programmed computational time, causing above tectonic features. It resonates bending of the space-time continuum, and the concept of tesseract, or travelling through "wrinkled" time. Custom-written software for design search and implementation of cantilevering and other structural constraints was developed for this project. Proto-architectural geometries are tested at the furniture scale and fabricated by layer-by-layer robotic extrusions in various polymers.
2016 - 2017


co-design with Chris Pang, Baolin Zhou and Siqi Chen



project tutor: Alisa Andrasek with Daghan Cam, Andy Lomas

The project was exhibited in

Meta Utopia - Between Process and Poetry Exhibition

, Zaha Hadid Design Gallery, London



Further iterations of this type of reduced CD adapted to robotic extrusion are being developed for various design applications, including a series of clay printed furniture, and robotically 3D printed urban furniture amongst others.





here

for project video

to be a committed, dedicated 'outsider'

with committed dedication to curiosity

to be fluid

to touch with words, actions and breath in and out

to connect

to make sense and fail in sense making

to feel the invisible, those not observable

to interpret

to synthesis

to break down

to suspend

to tell and to be challenged

to not assume

to be conscious of what I assume

to self-reflect, diffract and to reject self-improvement

to be vulnerable before touching

to synthesis or,

to break down

to be fluid

to start over

and over again






















┊






⊛




┊





⊛




┊



⊛



┊


┊
┊


︎︎︎ here are some links that I hope to help spreading